This Randall RB30XM is a tank of an amplifier. With heavy duty construction, this amplifier is no frills for the player looking for a dependable amplifier. At 30 watts, the amp is loud enough to keep up with other instruments during practice, but is still comfortable to bring to shows. The control layout is simple, but offers a few luxuries that you may not find on every amplifier. This includes separate inputs for passive and active basses, an effect loop, a contour knob for accurate shaping, and the standard treble, bass, and mid controls. The amplifier also has a headphone jack for practicing at home!

Spezifikationen:

30 Watts
Headphone Accessibility
Active and Passive Inputs
Contour Knob
3-Band EQ
Volume
Effects Loop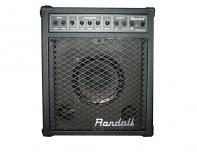 Diesen Artikel haben wir am Tuesday, 13. December 2016 in unseren Katalog aufgenommen.