Monster Cable ist in den USA der Marktführer in Sachen Kabel. Die Qualität der Kabel ist über jeden Zweifel erhaben und von High-End bis Consumer Klasse findet sich bei Monster Cable für wirklich jeden das optimale Kabel. Monster Cable sind für Audio-Profi s die erste Wahl. Die leistungsstarken Monster Prolink®-Cable für Mikrofone, Instrumente, digitale Geräte, Lautsprecher und DJs werden exklusiv von den weltweit besten Tontechnikern, Produzenten und Musikern im Studio und auf der Bühne verwendet. Die Liste der Monster Endorser, der so genannten Famous Monster, liest sich wie die "Who Is Who"-Liste der Superstars der Musikbranche: Aerosmith, No Doubt, U2, The Stones, Prince, George Benson, ZZ Top, Earth, Wind & Fire sind nur eine kleine Auswahl dieser schier endlosen Liste. Diese Profis wissen, dass die Qualität ihrer Kabel eine entscheidende Rolle für eine optimale Soundwiedergabe spielt und ihnen wichtige Vorteile eröff net, sodass sie nur auf Monster Cable vertrauen. Diese Musikgrößen haben einen einzigartigen, charakteristischen Sound, den sie seit vielen Jahren vermarkten und perfektionieren. Neben ihren Chart-Erfolgen haben sie eines gemeinsam: Sie alle haben bei Aufzeichnungen oder bei Auftritten bereits Monsterkabel verwendet. Die Kabel sind äußerst robust und aufwändig konstruiert und sind mit hochwertigsten Steckern ausgestattet. Alle Kabel sind auf die jeweiligen Anwendungsbereiche optimiert!

Straight 1/4" connectors
Precision coaxial design
90% coverage copper-braided shield
Rejects RFI and EMI
Carbon-infused dielectric
IsoTec vibration technology reduces handling noise
Duraflex outer jacket
Interchageable color "O" ring
Heavy-duty, molded connector
Legth: 6m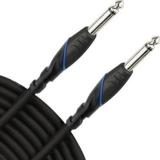 Diesen Artikel haben wir am Wednesday, 21. June 2017 in unseren Katalog aufgenommen.